Every game of the Super Rugby Pacific competition will be live and ad-free on Stan Sport.
Along with this, one game per week on Saturday night will be shown live across the Nine network.
This will see the introduction of Moana Pasifika and Fijian Drua as part of the 12-team competition.
Catch every game of the 2022 Super Rugby Pacific season on Stan Sport. Start your Free Sport Trial Now
After a slight draw tweak, the 15-round competition will kick off with new team Pasifika facing Trans-Tasman champions Blues on February 18.
Ahead of the 2022 season, here is everything you need to know about Super Rugby Pacific. The 2022 Super Rugby Pacific season will be the 27th season of Super Rugby, an annual rugby union competition organised by SANZAAR between teams from Australia, Fiji, New Zealand, Samoa and Tonga.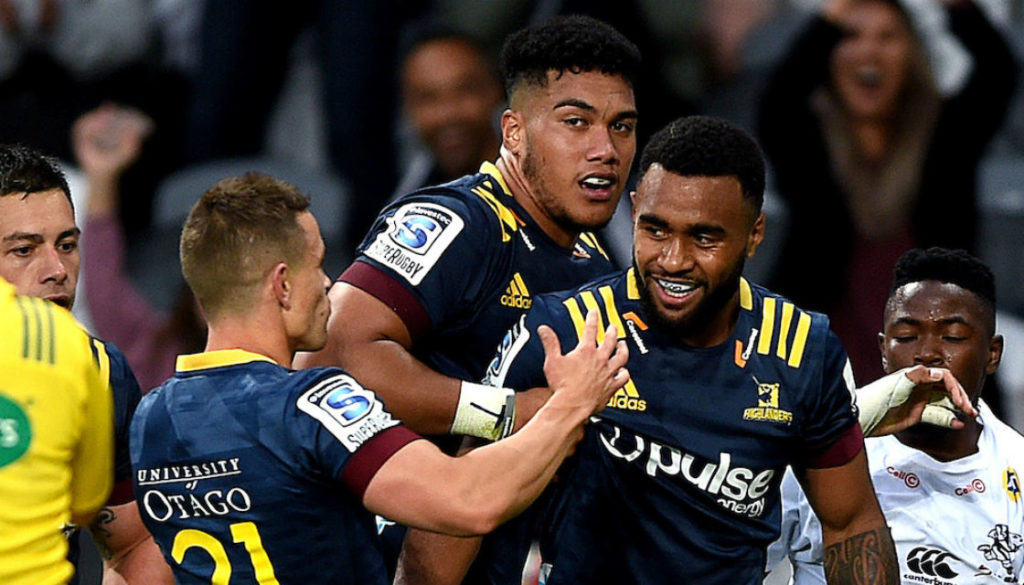 SUPER RUGBY PACIFIC 2022 DRAW
*All times local
ROUND ONE
Friday 18 February: Moana Pasifika v Blues, Mt Smart Stadium, Auckland (19:05)
Friday 18 February: Waratahs v Fijian Drua, TBC (19:45)
Saturday 19 February: Chiefs v Highlanders, FMG Stadium Waikato, Hamilton (16:35)
Saturday 19 February: Crusaders v Hurricanes, Orangetheory Stadium, Christchurch (19:05)
Saturday 19 February: Reds v Rebels, Suncorp Stadium, Brisbane (18:45)
Saturday 19 February: Force v Brumbies, HBF Park, Perth (19:00)
ROUND TWO
Friday 25 February: Chiefs v Moana Pasifika, FMG Stadium Waikato, Hamilton (19:05)
Friday 25 February: Waratahs v Reds, TBC (19:45)
Saturday 26 February: Brumbies v Fijian Drua, GIO Stadium, Canberra (14:35)
Saturday 26 February: Highlanders v Crusaders, Forsyth Barr Stadium, Dunedin (19:05)
Saturday 26 February: Rebels v Force, AAMI Park, Melbourne (19:45)
Sunday 27 February: Blues v Hurricanes, Eden Park, Auckland (15:35)
ROUND THREE
Friday 4 March: Moana Pasifika v Crusaders, Mt Smart Stadium, Auckland (19:05)
Friday 4 March: Fijian Drua v Rebels, TBC (19:45)
Friday 4 March: Force v Reds, HBF Park, Perth (19:00)
Saturday 5 March: Blues v Chiefs, Eden Park, Auckland (16:35)
Saturday 5 March: Hurricanes v Highlanders, Sky Stadium, Wellington (19:05)
Saturday 5 March: Brumbies v Waratahs, GIO Stadium, Canberra (19:45)
ROUND 4
Friday 11 March: Blues v Highlanders, Semenoff Stadium, Whangarei (19:05)
Friday 11 March: Rebels v Brumbies, AAMI Park, Melbourne (19:45)
Friday 11 March: Force v Waratahs, HBF Park, Perth (19:00)
Saturday 12 March: Hurricanes v Moana Pasifika, Sky Stadium, Wellington (16:35)
Saturday 12 March: Crusaders v Chiefs, Orangetheory Stadium, Christchurch (19:05)
Saturday 12 March: Reds v Fijian Drua, Suncorp Stadium, Brisbane (18:45)
ROUND 5
Friday 18 March: Highlanders v Moana Pasifika, Forsyth Barr Stadium, Dunedin (19:05)
Friday 18 March: Brumbies v Reds, GIO Stadium, Canberra (19:45)
Saturday 19 March: Fijian Drua v Force, TBC, (14:34)
Saturday 19 March: Hurricanes v Chiefs, Sky Stadium, Wellington (19:05)
Saturday 19 March: Waratahs v Rebels, TBC (19:45)
Sunday 20 March: Crusaders v Blues, Orangetheory Stadium, Christchurch (15:35)
ROUND 6
Friday 25 March: Moana Pasifika v Hurricanes, Mt Smart Stadium, Auckland (19:05)
Friday 25 March: Rebels v Fijian Drua, AAMI Park, Melbourne (19:45)
Saturday 26 March: Highlanders v Blues, Forsyth Barr Stadium, Dunedin (16:35)
Saturday 26 March: Chiefs v Crusaders, FMG Stadium Waikato, Hamilton (19:05)
Saturday 26 March: Reds v Waratahs, Suncorp Stadium, Brisbane (18:45)
Sunday 27 March: Brumbies v Force, GIO Stadium, Canberra (14:00)
ROUND 7 (Daylight savings concludes Australia & New Zealand)
Friday 1 April: Crusaders v Highlanders, Orangetheory Stadium, Christchurch (19:05)
Friday 1 April: Fijian Drua v Waratahs, TBC (19:45)
Saturday 2 April: Blues v Moana Pasifika, Eden Park, Auckland (19:05)
Saturday 2 April: Reds v Brumbies, Suncorp Stadium, Brisbane (19:45)
Bye: Chiefs, Hurricanes, Force, Rebels
ROUND 8
Friday 8 April: Hurricanes v Crusaders, Sky Stadium, Wellington (19:05)
Friday 8 April: Force v Rebels HBF Park, Perth (17:45)
Saturday 9 April: Chiefs v Blues, FMG Stadium Waikato, Hamilton (19:05)
Saturday 9 April: Drua v Brumbies, TBC (19:45)
Bye: Pasifika, Highlanders, Reds, Waratahs
ROUND 9
Friday 15 April: Moana Pasifika v Chiefs, Mt Smart Stadium, Auckland (19:05)
Friday 15 April: Rebels v Reds, AAMI Park, Melbourne (19:45)
Saturday 16 April: Highlanders v Hurricanes, Forsyth Barr Stadium, Dunedin (19:05)
Saturday 16 April: Waratahs v Force, TBC, (19:45)
Bye: Blues, Crusadeers, Brumbies, Drua, Crusaders
ROUND 10 (ANZAC ROUND + SUPER ROUND)
Friday 22 April: Chiefs v Waratahs, AAMI Park, Melbourne (18:00)
Friday 22 April: Moana Pasifika v Force, AAMI Park, Melbourne (20:30)
Saturday 23 April: Blues v Fijian Drua, AAMI Park, Melbourne (17:05)
Saturday 23 April: Hurricanes v Reds, AAMI Park, Melbourne(19:45)
Sunday 24 April: Highlanders v Brumbies, AAMI Park, Melbourne (14:00)
Sunday 25 February: Crusaders v Rebels, AAMI Park, Melbourne (16:00)
ROUND 11
Friday 29 April: Reds v Chiefs, Suncorp Stadium, Brisbane (19:45)
Friday 29 April: Force v Blues, HBF Park, Perth (20:00)
Saturday 30 April: Fijian Drua v Highlanders, TBC (14:35)
Saturday 30 April: Waratahs v Crusaders, TBC (17:05)
Saturday 30 April: Rebels v Moana Pasifika, AAMI Park, Melbourne (19:45)
Sunday 1 May: Brumbies v Hurricanes, GIO Stadium, Canberra (14:00)
ROUND 12
Friday 6 May: Blues v Rebels, Eden Park, Auckland (19:05)
Friday 6 May: Reds v Highlanders, Suncorp Stadium, Brisbane (19:45)
Saturday 7 May: Moana Pasifika v Waratahs, Mt Smart Stadium, Auckland (16:35)
Saturday 7 May: Chiefs v Brumbies, FMG Stadium Waikato, Hamilton (19:05)
Saturday 7 May: Force v Crusaders, HBF Park, Perth (17:45)
Sunday 8 May: Hurricanes v Fijian Drua, Sky Stadium, Wellington (15:35)
ROUND 13
Friday 13 May: Highlanders v Force, Forsyth Barr Stadium, Dunedin (19:05)
Friday 13 May: Brumbies v Crusaders, GIO Stadium, Canberra (19:45)
Saturday 14 May: Fijian Drua v Moana Pasifika TBC (14:35)
Saturday 14 May: Blues v Reds, Eden Park, Auckland (19:05)
Saturday 14 May: Waratahs v Hurricanes, TBC (19:45)
Sunday 15 May: Rebels v Chiefs, AAMI Park, Melbourne (14:00)
ROUND 14
Friday 20 May: Crusaders v Fijian Drua, Orangetheory Stadium, Christchurch (19:05)
Friday 20 May: Reds v Moana Pasifika, Suncorp Stadium (19:45)
Saturday 21 May: Chiefs v Force, FMG Stadium Waikato, Hamilton (16:35)
Saturday 21 May: Hurricanes v Rebels, Sky Stadium, Wellington (19:05)
Saturday 21 May: Brumbies v Blues, GIO Stadium, Canberra (19:45)
Sunday 22 May: Highlanders v Waratahs, Forsyth Barr Stadium, Dunedin (15:35)
ROUND 15
Friday 27 May: Crusaders v Reds, Orangetheory Stadium, Christchurch (19:05) (19:05)
Friday 27 May: Fijian Drua v Chiefs, TBC (19:45)
Saturday 28 May: Moana Pasifika v Brumbies, Mt Smart Stadium, Auckland (19:05)
Saturday 28 May: Waratahs v Blues, TBC (19:45)
Saturday 28 May: Force v Hurricanes, HBF Park, Perth (20:00)
Sunday 29 May: Rebels v Highlanders, AAMI Park, Melbourne (14:00)